Smart Wallet Card launched as biggest Financial tech industry innovation in recent times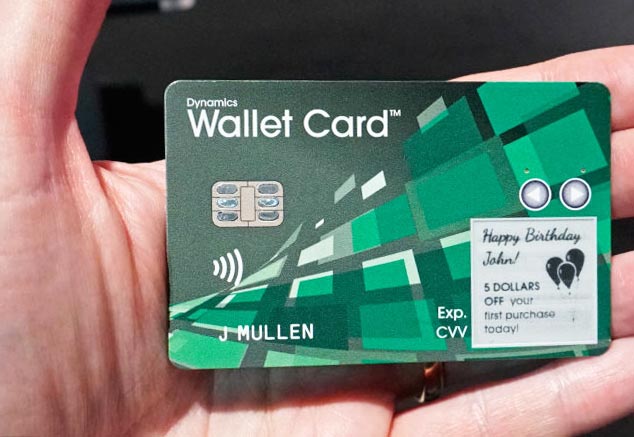 This year, the biggest mobile tech show has introduced a very cunning new tech gadget, launching the new 'smart wallet' card at the Mobile world congress.
So far, in the USA, the biggest banks have seemingly been very lethargic about introducing or using the latest new debit and credit card technologies. Chip secure cards were only recently introduced a couple of years ago which is not a good sign for companies like Dynamics who have just launched their new 'connected smart credit card' that comes complete with a GSM chip inside it, an E ink display and is no fatter than the cards that may be living in your purse or wallet already.
These cards are innovative because they can be reprogrammed at the press of a button and they can also act as different cards on demand.
Dynamics has been at the forefront of banking card technology for several years and was responsible for making the now common magnetic strip on single cards that are used for all manner of purchases and bank machine withdrawals. The new card invention can act as a credit card, debit card, loyalty card and so on all with a touch button press. This has been implemented by a large Canadian bank recently and they now offer a debit card, which was produced by Dynamics, that also works as a loyalty card for a high street brand of coffee chains.
The new connected card comes complete with a 65k pixel display that can display things from brand logos to card numbers or the card holders name. All this while being near standard card thickness and having a GSM antennae built inside it. Potentially, these cards could also be used for locating data, so could be used to track the cardholder or the car itself.
This has benefits for security. If you think your card has been compromised, no problem, you can get it reprogrammed on the fly with a new number.
Other useful features could be a warning message when you are approaching your credit limit when using the credit card, or maybe a loyalty bonus message appearing on screen when you reach XXX spending number at a certain outlet.
The card could be some time from being in your wallet in the USA or the UK though, with the tech still being in the early stages, there is plenty to watch.