Find the Best Loans for You
Compare cheapest interest rates on UK loans online today, here at Bestloans.net.
Fast Short Term Loan?
Sometimes you need some fast cash and cannot wait for long application processes, or worry whether or not you will be approved.
So here are the best ways to get short term finances sorted, with a small loan. These are usually types of bad credit loans.
Best Value Loans (Updated 8th August 2018)
Here at Best Loans, we've compared the best loan deals available in the UK below:
We compared a selection of loans, ranging from the cheapest, unsecured, lowest interest rates, and large loans, so that you can search for a good loan that meets your needs.
Secured Loans
If you own your own home, then you can get some great loan deals using it as security.
Debt Guides
Read in-depth advice about managing your finances from the Best Loans team.
Banking Guides
Expert roundups of the best way to switch, monitor, and maximise your banking in the United Kingdom system.
June 14, 2018
The Data company, who have recently conducted a…
How do you choose the best loan deal for your situation?
Whether you are comparing mortgage loans or unsecured loans, there are important key aspects that you need to consider in the process in order to find the best loans for your situation.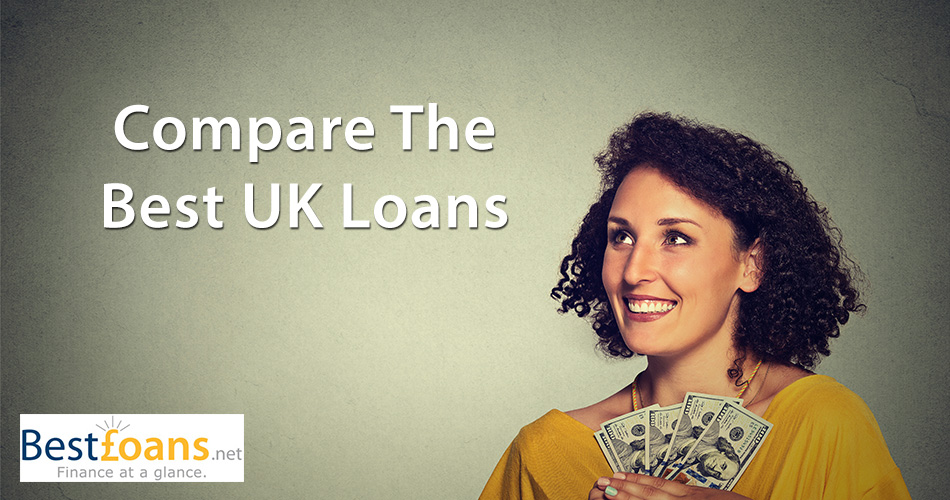 Thanks to top online loan comparison tools currently available (i.e. Money Supermarket, and many more) you can now find available comparison options to find the best loans. To help you compare loans easily, we are going to discuss the necessary aspects to consider in this article.
Compare Loan Interest Rates
Start by looking into the interest rates of the loans you are comparing. Comparing interest rates can help you get a good picture on which loan is the best for you. Do keep in mind that you need to look into not only the base interest rate but also the APR (Annual Percentage Rate) and net interest rate if you want to truly understand the costs of the loan.
You also need to work out the amount of money you need to allocate on loan repayments. Two loans with the same interest rate and loan term can have different monthly payment amounts, mainly because the calculation method and associated costs for the loans are different. You also need to make sure that the monthly payment amount is well within your budget; you are avoiding future problems this way.
Aside from the payment amount, you may also want to calculate the total amount you repay as well as the total charge for the loan. This will help you see if the loan costs too much. A £10,000 loan of 5 years with 6.6% interest rate means you will be paying a total of £11,714; the total cost of the loan is £1,714, which means the APR is around 14%.
Special Loan Deals – Cheapest Options
Continue by looking into exclusive offers and special bonuses in order to find the best loans. This is the key to finding the best loan. Depending on the online loan search and comparison tools you are using, you may find exclusive offers and discounted rates as well. These special offers can really reduce the costs of taking out a loan substantially, so they are indeed worth looking into. You can also find additional bonuses and rebates when you apply for the loan through one of the best online resource centers available today.
Don't forget to also compare the lenders. Although the loan deal might be the best on the market, taking out a loan from a shady lender could lead to a series of severe problems along the way. Be sure to deal with only a reliable and reputable lender. You can consult the FSA (FSA.gov.uk) to find out more about registered financial institutions.
Safety First – Check Terms and Conditions
Last but not least, check the terms and conditions attached to the loans you are comparing. It may seem like a complicated task to complete, but you will be able to pick the most beneficial loan that really protects your interest this way. Don't hesitate to contact the lender or loan broker directly if you find points in the terms and conditions that you don't understand.
Now that you know the necessary aspects to compare when looking into loans, you can find the best one to take out without a problem.
You can view the Best Loans privacy disclaimer here.
About The Best Loans Website

Best Loans is a financial advice website found at the address bestloans.net, and it aims to provide the latest and best financial information on loans (and other deals such as mortgages and credit cards) to UK consumers, to help them make smarter decisions with their money.
This comprises of deal comparison pages, and informational articles, with faq's about topics such as credit scores and paying off debt. We also provide glossaries for key term definitions, the latest news in consumer finance, and calculators / tools to help you work out deals based upon your own unique financial information.
You can find more about Best Loans here.
How To Contact Best Loans
If you want to get in touch with the editorial or company team here at Best Loans, then we provide two simple ways of doing this.
The best way is by email, which is answered twice per day, but on the off chance that you prefer to speak in person, we can answer the phone between 9 am and 5pm GMT Mon-Thurs.
Don't hesitate to get in touch with the Best Loans team about any issue or proposal you might have.