Best Small Loans Compared
If you only need to borrow a small amount of money, then you're in luck.
We've compared the best small loan interest rates and deals in the UK.
Small Loans – Need to Knows:
Before you purchase a small loan, get the key info below:
Small values of between £50 and £1,000.
Geared towards bad credit applicants.
Higher interest rates than normal loans.
Maximum term of around 14 months.
Be wary of Payday loans with high final payments.
Read the full guide below, or skip to the best rates.
Compare the Best Small Loans for your situation
Smaller loans come in various shapes and sizes (not literally).
We've compared the best ones in certain situations below for you to browse.
These include small loans, payday loans (very short term), and guarantor loans for bad credit.
What is a small loan?
A small loan is usually a short term loan, that borrows a small amount of money. A typical range for a small loan is between £50 and £1,000.
Why should you apply for a small loan?
People considering a small loan are often those who have unexpected short term bills or financial losses that need to be paid for. This can include, but is not limited to:
Unexpected medical bills (including pets).
Unexpected losses related to unemployment.
Emergency dental bills.
Essential car repairs.
Funeral expenses.
Paying off other more expensive debt.
Mortgage deadlines.
Credit card bills.
Whatever your reason, short term loans can help alleviate financial stress, putting you in a better position to earn more money and get yourself out of trouble.
What type of small loans are available?
There are various different types of small loans out there on the market, such as:
How expensive are small loans?
Small loans are usually much more expensive than larger alternatives taken out over a longer period of time. This is because the job of a lender is to make money, and it you only borrow a small amount of money over a short period of time, if they offered the same interest rates as larger loans they wouldn't make much money.
And so because their costs of processing your application and lending you the money will be the same, to make a profit they will make the interest rates on small loans much higher, to make them a worthwhile product for them to offer.
If you want to get a better interest rate, then using security could help such as a house, or using a guarantor as security.
How to apply for a small loan?
You apply for a small loan the same way in which you apply for any other personal loan, by either applying online to visiting your local lender or high street bank.
Using an online small loan broker can help you compare the best rates from different providers, or visiting a lender directly that you've used before could make your application more likely to be approved.
You must make sure that all the information you provide on a loan application is honest and legal, as it is an official document and you could lose your right to the money if it is found out that you lied on your application.
Alternatives to a Small Loan
If you're thinking that a small value loan isn't right for you, then consider some of the best alternatives below.
Small Loan vs Credit Cards
A credit card will usually represent a better choice of financing than a small loan, as long as you don't need to borrow the money for a long amount of time.
Many credit cards come with a 0% interest rate, which allows you a limited amount of time to borrow the money for free. For short term bills and other expenses this can be the perfect option. However beware, after the no interest period a credit card represents one of the most expensive ways to borrow money, with very high interest rates.
Some people take out multiple credit cards to borrow money, however remember that the total amount of debt you have can affect your credit rating heavily.
Small Loan vs Overdraft
An arranged overdraft with your bank can be quite a good way to borrow a small amount of money over a short period of time.
You can arrange how much money you will need to borrow in an overdraft, and how long you will need it for, and your bank will often be happy to offer you a low or free interest overdraft for a short period of time.
This is far more likely if you have regular income and a good credit history.
Small Loan vs Borrowing From Friends / Family
If you can convince your friends or family to lend you a small amount of money for an unexpected bill in the short term, it may save you from paying hundreds of pounds of interest to the banks.
You could even suggest that when you've paid them back you'll take them out for a meal to say thank you, which will usually be less than you would've paid back in interest, and you'll get to spend it on enjoying yourselves.
Small Loan vs a Large Loan
Sometimes borrowing more money can actually be cheaper. If the larger loan has a smaller interest rate then you should seriously consider if you could use the money for other things. Perhaps investing in something, upgrading your house, or paying for some work based training.
If you're going to pay either way, you may as well get some more money out of it so that you can make use of it, otherwise you're simply paying money into the lender's pockets.
We compare some of the larger personal loans on our page here.
Small Loan vs a Secured Loan
If you cannot get the interest rate you want in a small loan package (ie it has become too expensive) then you may want to consider using some sort of security.
A secure loan can help you get the money you need, by offering up something valuable in exchange as security. This is based upon the model of the pawn broker, who takes in the valuable item in the shop in exchange for cash. However in this instance the security is promised on paper, usually based upon large assets such as your house.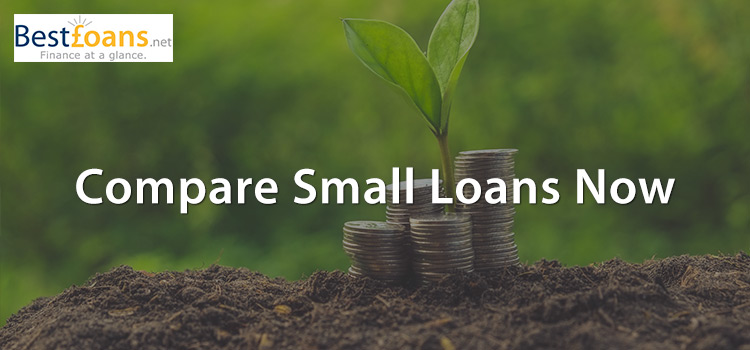 If you need the money and know that you can pay it back, then offering up your house as security can be a no brainer, but if you are in any way unsure about your financial future, it's probably not the thing you want to be betting with, as being left without your house could be very harmful to your quality of life.
Small Loan Frequently Asked Questions
Here are some of the most common questions we've found on the topic of applying for and getting a small loan in the UK.
Will a small loan help or hurt my credit?
Both. The real answer is that it depends. When you take out any sort of loan, it's marked on your application as such, and this represents you taking on more financial risk, making any further lending to you more risky (and therefore you have a lower credit rating).
However if you successfully make the repayments of your loan, then this is marked positively on your credit record, and so any future lender will look upon this favourably.
So the answer is, in the long run it will help, as long as you make the repayments. In the short term it may slightly lower your rating.
Can I get a small loan with bad credit?
You can get a small loan with bad credit, however your choice of lenders and interest rates will often be worse. An individual with bad credit represents a more risky loan for the lender, and so they want to offset that risk by charging you a higher interest rate.
For those with seriously bad credit, only some of the lesser known lenders will be willing to take your application, as they will need the business more and be willing to take more risk.
Can I have a small loan of a million dollars?
This is a quote from Donald Trump, who claims that he only received a small loan from his father, however most people would consider a loan of one million dollars to be quite a large amount.
I can't pay back my small loan, what should I do?
If you're struggling with your debt then there are things you can do. Often using things like a debt consolidation loan can represent an escape route for some, letting you combine multiple loans and credit cards into one loan repayment, helping to minimise the total lenders you owe, and to better organise your finances.
You could also consider a debt help charity such as Step Change, who are geared around providing financial solutions to those who are in out of control debt. You should also consider if you were sold your loan under the correct circumstances, by visiting the Financial Conduct Authority website.
Where is the best place to get a small loan?
You can get a small loan from any lender who offers one, which could be your local high street bank, or the new online lender that you've seen advertised on television. Whoever you choose, the key is to look at the interest rates you will have to pay, and whether or not there are early repayment fees.
Can I get a small loan without income proof?
Most lenders will require some proof of income in order to offer you a loan, otherwise how do they know if you can pay it back? Even if a lender does accept you, you will end up paying much higher interest rates in order for them to offset the risk you represent to them.
Can I get a small loan without a bank account?
The majority of loan companies will require you to have a bank account to pay the small loan into.
There are certain loans that you may be able to get, such as Pawn Loans, Title Loans / Logbook Loans, and some Payday loans, however they won't always represent the best deal, and can often get you in with the wrong crowd.
Can I get a small student loan?
As a student you can take out as much of a student loan as you think you need to pay for your studies. During the student loan application process you can specify the exact amount you need to borrow, and what it will be used for.