Best Wedding Loans – UK Providers Compared
Financial assistance to help pay for your wedding or honeymoon.
Wedding Loans – Need to Knows:
Before you get a wedding loan, understand the facts:
Average wedding cost is £21,000.
Headline rates require good credit ratings.
Secured loan against house helps repayments.
Loan period of 1 to 25 years.
Sometimes a bigger loan can be cheaper.
Read the full guide below, or skip to the best rates.
Compare the UK Best Wedding Loans
We've compared the best loan deals to pay for your wedding below, including the cheapest interest rates, best for bad credit, fast delivery, secured loans, and more.
Best Personal Wedding Loans
Here are the best interest rates on wedding loans when you don't have security, starting with the smallest amount borrowed.
Best Personal Wedding Loans
Here are the best interest rates on wedding loans when you don't have security, starting with the smallest amount borrowed.
What is a wedding loan?
A wedding loan is a personal or secured loan taken out in order to pay for the costs of your wedding. It can be used to pay for catering, flowers, the wedding dress, the venue, the band, and anything else you can think of, including the holiday / honeymoon!
How does a wedding loan work?
A wedding loan works just like any other loan, you apply with a lender, who performs a credit check to make sure you are eligible for the loan (and what rate they can offer you) and then you accept the loan agreement to receive your money.
The monthly repayments will usually be fixed on a personal loan, helping you to budget. You will often get a better interest rate if you can secure your loan against your house.
When should you get a wedding loan?
A wedding loan is probably the right option for you if you're struggling to work out how you will afford the costs of your wedding. This should be used as a last resort after budgeting, and trying to borrow money from friends and family.
It's also appropriate for those who have no more credit left on credit cards and other loans.
Can you get a wedding loan?
Are you eligible for a wedding loan? Well like any other loan this will go down to your credit rating (to learn how to improve this, click here) which takes into account things like:
How much debt do you currently have?
How good are you at repaying your debts?
Have you ever been bankrupt?
Have you been rejected for other loans?
How often do you apply for credit?
A lender will compile this information to work out a credit score for you, and from that they can choose what interest rate you will be eligible for. It basically comes down to how risky you are to lend to.
Where to get a wedding loan?
You can get a wedding loan in all of the places you would a normal loan, which includes:
High street banks
Online lenders
There may well be custom finance options if you're using a specialist wedding company to pay for your wedding, but you should see their website for more details on that.
Pros and Cons of a Wedding Loan
The advantages of a wedding loan can be the spreading of the costs. As loan terms can go as long as 25 years, this gives you plenty of time to manage your finances and pay off your wedding at your own pace.
You can also borrow fairly large amounts of money at a good interest rate, which can be a smart way of paying for the cash when compared to other loans such as instalment loans.
However some of the downsides or a wedding loan include needing a good credit rating to get a worthwhile interest rate. A bad rating leads to an expensive loan, which may not be worth it to you. Also if you want to borrow a really small amount of money, then you may end up paying higher interest rates.
Alternatives to a Wedding Loan
If you want to know your other options to pay for your wedding, then read some of the advice below.
Wedding loans vs Credit Cards
If you can get an interest free loan using a credit card, then that represents the best financial deal you can ever get. Many credit cards offer a period of 0% interest, effectively allowing you to borrow the money for free.
However obviously this isn't forever, so you need to work out how long you need to borrow the money for, as if it's over the time of 0% interest then it would work out more expensive than getting a wedding loan.
Wedding loan that you only pay back if you divorce?
This option was connected to a USA startup company called SwanLuv, who claimed that they would give free loans to engaged couples, which they only have to repay if they divorce.
However after an unexpectedly high demand (go figure?) they decided to change their business model to a wedding crowd funding platform, where users can create their wedding pages and pitch for money.
This caused some outrage from the people already signed up, and the company posted an apology on their Facebook page.
Advantages of borrowing from friends and family
In years gone by, it was a tradition for the bride's family to pay the bill for the wedding, however nowadays it is far more an even split. This could be as a result of  women's rights activism, helping to break down old historical gender biases.
The thing about borrowing from friends and family is that it's very much dependent on your relationship with them. In some situations it could be great, for example if your parents have some money they aren't using and don't mind you borrowing, because they may not charge you any interest and so it would be cheaper.
However there could be bad situations, such as if you pressure a friend into giving you a loan that they cannot really afford. This could lead to financial hardship for your friend, and make the relationship between you two very difficult or even damage it permanently.
Money has a way of making people go to the extremes, often because people have emotional attachments to money, and so it's often not best to mix finances with friends and family.
Pros and cons of payday loans for weddings
A payday loan should always be a last resort, and particularly with the amount of pressure already on your for planning a wedding, it can give you unneeded financial pressures to repay larger amounts.
If you need a small amount of money to pay for something last minute fast, then it can be an option for you. But beware of the high interest rates on missed payments, make sure you have the money by the dates required and don't go overdue.
Wedding Loan FAQ's
You may have some more questions about your wedding loan that we haven't answered yet, so read on to see some of the questions we receive about wedding loans.
How to find the money to pay for a wedding?
There are lots of ways to find money for a wedding without taking out a loan.
You could start a dedicated savings account and aim to put a certain amount in every month until your wedding date, and you could even ask your bank to do it automatically so that you never see it.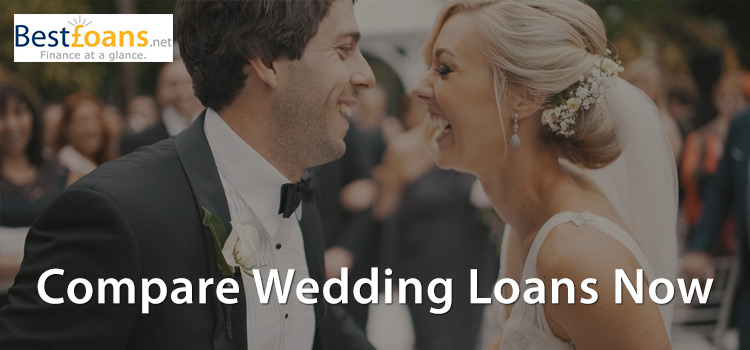 You could also set the date of the wedding back so that you have more time to budget and save for it, which could help you get your dream wedding as opposed to just one that you can afford.
You can pick and choose the people you invite, which would leave a reduced guest bill for things like food and accommodation. Now whilst this may upset a few people, it may also make your wedding more intimate, with only the people there who you really care about.
Creating a budget and spending plan for your wedding can help avoid the inflating costs that often happen when you aren't planning it correctly. By doing this ahead of time, you can focus each discussion with individual retailers or service providers to narrow down the price range to the agreed amount.
Removing unnecessary extras can also help reduce the cost. Certain things like "table favours" and other finishing touches can be lost on the majority of your guests, and therefore represent wasted spend. The things not to cut short on are your alcohol and food costs, as these are the essential parts to a wedding (short of the wedding itself!).
Can I take out a loan for my wedding dress?
Yes you can use a personal or secured loan to get the wedding dress of your dreams. Just make sure you inform the loan provider of this before hand.
Can I take a loan out for my wedding venue?
Taking a loan out for the venue of your wedding can be a very smart option, and is definitely ok to do so, as it represents one of the larger bills on your wedding balance sheet.
Can I take a loan out for my wedding catering and flowers?
Yes you are well within your rights to use your wedding loan to pay for food, drink and flowers. These represent the heart of the wedding bill, and are therefore essential for the loan if you are struggling to pay for them.
Scroll back up to compare the best loan rates on our wedding loans.
We are sorry that this post was not useful for you!
Let us improve this post!
Tell us how we can improve this post?