Best Holiday Loans – UK Providers Compared
Finance your your next trip away solo, with your friends or family, by comparing the best interest rates for holiday loans here.
Holiday Loans – Need to Knows:
Before you purchase a holiday loan, get the essential information:
Loan periods of 1 – 25 years.
Fixed repayments help with management.
Look for repayment holidays at the start.
Bad credit makes it hard to get good rates.
0% credit cards can be better option for short term.
Read the full guide below, or skip to the best rates.
Compare the Best Holiday Loans in the UK
Shop the best holiday loan rates available, based upon factors including the interest rates (APR%), the total repayment amount, the length of the loan, the amount, and any repayment holidays available.
Best for: Overall Low Interest APR%
Here are our top picks for a holiday loan with low interest, which means it is the cheapest.
Best for: Low Loan Value

Here are the best loans to get if you only want to borrow a smaller amount for your holiday.
Best for: High Street Bank

If you want a loan with a big name you can trust, here are the best interest rates for them.
Best for: Online Only

Out of the many different online options, these are by far the best we came across, for rates and customer service.
What is a holiday loan?
A holiday loan is a personal loan that you will use to pay off your holiday. They can be used to travel to a friend's wedding, exploring a foreign land on a gap year, paying for a honeymoon, or funding the family trip to Disney of a lifetime.
Whilst we would recommend that you pay for non-essential items such as holidays from your savings, if you need to pay it and you don't have the cash, then a holiday loan could be the way to go.
How do holiday loans work?
A holiday loan works just like any other personal loan that you take out yourself, you fill out an application, at which point the company checks your credit history, and if approved you will receive the money.
You will then have to pay back the money as you agreed in the contract, which may sometimes have an introductory payment holiday where you don't have to pay anything for a short time.
Who provides holiday loans?
Holiday loans are provided by many different types of lenders. From popular high street banks such as Tesco, Santander, Barclays, , Halifax, Natwest, Asda, Lloyds and the Post Office; to online only lenders such as: Sunny, Everyday Loans and Likely Loans.
When do holiday loan repayments start?
Holiday loan repayments usually start in the following month from your successful loan application, however some providers offer a repayment holiday, which gives you a time period where no repayments are made. Obviously the same amount of interest and loan is paid back, you simply make up for the holiday by repaying larger instalments later on.
Pros and Cons of a Holiday Loan
If you're thinking about a holiday loan, then consider some of the pros and cons of this type before applying.
Pros
The advantages of a holiday loan include:
Fixed repayments – you will always known how much money you need to repay each month, no escalation of charges.
Flexible length – you can choose the loan that matches the exact period that you can pay it off in, meaning you don't pay any more interest then you need to.
Repayment holidays can help to delay financial responsibility until you return from your trip.
Cons
Some of the downsides or disadvantages to a holiday loan include:
Credit score dependent – simply put, if you have a bad credit score then the interest rate you will get on a loan will be poor, making it a very expensive way to pay for a holiday. Find out how to improve your score here.
There are cheaper alternatives out there such as 0% credit cards, which can be a better option for short term holiday financing.
Alternatives to Holiday Loans
A holiday loan might not be your best option to fund your trip, so consider our comparisons below to find a better alternative.
Holiday Loans vs Credit Cards
A credit card is a good choice to fund your holiday, IF you have a good enough credit rating to get a long period of 0% interest that will fund your holiday in full.
This is effectively a free loan during the 0% interest period, and so makes it a cheaper option than a personal holiday loan would be. This in effect allows you to push back the cost of your holiday until you want to repay it, freeing up cash for you to use on enjoying yourself, without worrying about APR%.
However beware, if you cannot pay off your credit card before the 0% period finishes you could be in a very bad condition, because the interest rates will sky rocket, and create a large debt into something too big to handle alone.
If this is your situation, then consider a debt consolidation loan here.
Holiday loans vs Overdrafts
In some circumstances, an agreed overdraft with your bank could provide the cash you need to fund your holiday without overpaying on interest rates.
If the deal that your bank provides on the overdraft works out as cheaper than the equivalent holiday loan, then you should choose the overdraft. However if there is a time limit on your overdraft, and you're worried about being able to repay the money at that time, then considering a longer period holiday loan could be a better choice.
Holiday loans vs Payday Loans
It is never a good idea to use a payday loan to pay for a holiday, because the interest rates will be far worse than any other personal loan on the market. If you are really struggling to get financing for your holiday, then consider using a guarantor to secure your loan, as this can help you get a loan without overpaying on interest rates.
FAQ's On Holiday Loans
Here are some of the more popular questions that we hear when people are discussing getting a holiday loan in the UK.
Is Holiday Finance the same as a Holiday Loan?
Not usually. Holiday finance (similar to car finance) is usually provided by the company who is also supplying you with the holiday. By contrast a holiday loan is often provided by a well known lender, be it a commercial high street bank or an online lender.
You should consider both, and choose the one that has the best interest rates and loan terms.
When is the best time to get a holiday loan?
There isn't really a best time of year to get a holiday loan. You could argue that from a supply and demand perspective that more people will want to go on holiday in the summer, and so arranging for a winter holiday might be better.
But realistically the best time to get a holiday loan is when your credit rating is at its highest, as this will mean the interest rate you get will be the cheapest possible for you.
How to get the cheapest holiday possible?
So the best money saving tip on a loan is to get the lowest amount out possible to ensure it's less expensive. And this starts from paying the lowest amount possible for your holiday in the first place.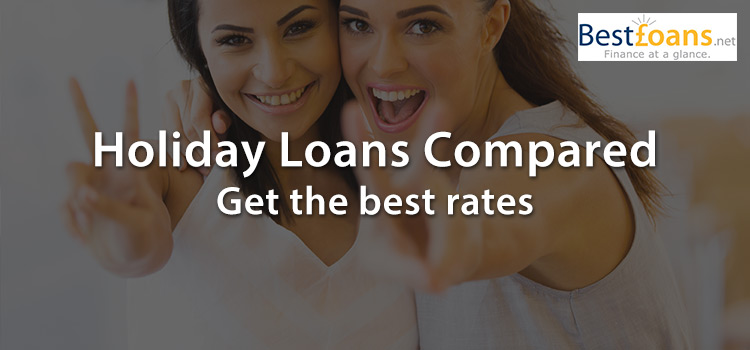 For cheap flights, you can monitor sites like Kayak to find the lowest fare times and book then. You could consider buying a package holiday, as prepaying for activities and other things can help you save money.
Don't be afraid to haggle, sometimes if you say you've got a smaller budget a holiday provider may match the price you want.
I need a holiday (now!)
We hear you, doesn't everyone? But make sure you're smart about how you pay for it. It's not worth being impulsive and choosing the wrong loan, as you will end up hating yourself for it in the future when the high interest rates kick in.
If you're feeling stressed at work and need a break, consider the tips on the NHS website here: https://www.nhs.uk/conditions/stress-anxiety-depression/reduce-stress/
How useful was this post?
Click on a star to rate it!
Average rating / 5. Vote count:
No votes so far! Be the first to rate this post.
We are sorry that this post was not useful for you!
Let us improve this post!
Thanks for your feedback!