Debt Consolidation Loans
If you've run into trouble and need a better way to manage escalating interest rates, a debt consolidation loan could help you. Browse our comparison below.
Best Reviewed Debt Consolidation Loans
Here are the best choices for debt consolidation loans available for online application today.
These are based upon a combination of the best interest rates, the best reviewed providers, and the ease of application / likelihood of getting approved with a bad credit rating.
What is a debt consolidation loan?
A debt consolidation loan is a loan where you borrow money to pay off your existing debt, usually at an interest rate that is easier for you to make the repayments.
The total value of your debt is not reduced, but the interest rates payable on the debt is usually less, and so it effectively reduces the total amount you will end up paying back.
They can also allow you to spread the cost of your debt over a longer period of time, and dealing with one lender will be easier to manage.
How do debt consolidation loans work?
Debt consolidation loans work by taking out a loan amount that's equal to the total debt + interest / early pay off fees that you have with other lenders.
This means that each lender is paid off, leaving you with 1 loan that has a fixed interest rate and period. This will usually be designed to be at a lower interest rate.
Debt Consolidation Loans Pros and Cons
Here we weigh up the pros and cons of debt consolidation loans.
The Pros
Reduce your monthly payments.
Improve your credit rating.
Reduce your total interest – so reducing the total amount repaid.
The Cons
Longer debt commitments.
Use as a last resort.
Repayments may still be hard to handle.
Who offers debt consolidation loans?
These types of loans are often provided by your typical personal loan companies, such as banks, online lenders, and credit unions.
You will find popular consolidation loans from M&S Bank, Yorkshire Bank, Clydesdale Bank, Zopa, Cahoot, Sainsbury's Bank, AA Loans, Admiral, Tesco Bank, Natwest, Lloyds TSB, and other banking institutions.
Am I eligible for a debt consolidation loan?
Your eligibility for a debt consolidation loan depends on the total amount of debt you have and your credit rating. If you have a very bad credit score then you will most likely need to have a secured loan or alternatively a guarantor loan.
Calculator for debt consolidation loan
If you want to calculate your debt consolidation loan online to see if you're eligible and can afford the repayments, then we recommend you visit the GoCompare calculator here: https://www.gocompare.com/loans/
How hard are they to get?
Like we mentioned above if you have a good credit score then they are fairly simple to get, as easy as a normal personal loan. However if you have a bad score, or you owe a large amount of money already then you will need to secure a loan with something valuable that you already own.
If you want to improve your credit score then visit our guide here.
If you're a young person looking for a loan, then visit our guide to get the best rates.
Are they taxable?
If you're self employed or using a debt consolidation loan for your business then you can claim costs for the interest on your loan. However you cannot claim the repayment of the loan as a cost.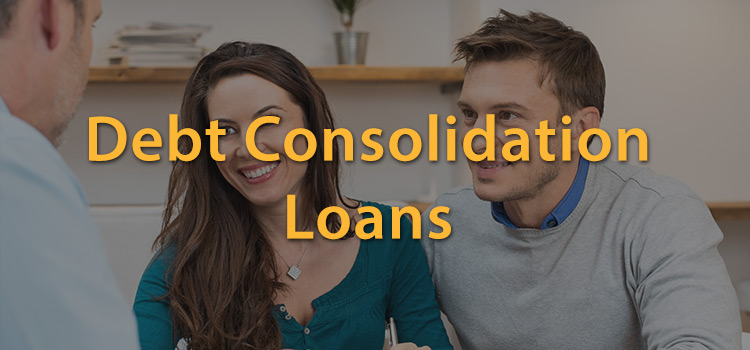 Can I get a debt consolidation loan without closing my credit cards?
As a debt consolidation loan is simply a personal loan that you take in order to manage your finances, you are allowed to keep or pay off as much or as little of your debt as you like.
So yes you can leave some credit cards active whilst you consolidate another portion of your debt.
This is only advisable if the interest rate on those cards is very good, however if your credit rating is poor you should consider reducing the amount of cards that you have at one time to improve it.
Alternatives to Debt Consolidation Loans
If you're worried about whether or not debt consolidation loans are right for you, then consider an alternative solution below.
Debt Consolidation Loans vs Debt Counselling
You may be able to manage your way out of your current debt without resorting to more debt. This can be done by using debt advice or counselling services, such as the Money Advice Service in the UK, which will coach you whilst analysing your situation to see how you might make some day-to-day savings and improve your finances.
If you're getting harassed by debt collection agencies or bailiffs then you should contact companies that can help to stop this for 30 days.
If you go out of your way to get help with your debt, then under the Government backed Credit Services Association Code of Practice, you can get debt agencies to be banned from contacting you for 30 days.
This will give you some breathing space and allow you to get your situation in order.
Recommended debt management charities and advisors:
Citizens Advice – 03444 111 444
Civil Legal Advice – 0345 345 4345
Debt Advice Foundation – 0800 043 40 50
National Debtline – 0808 808 4000
StepChange Charity – 0800 138 1111
Contacting these companies will be your first step back to financial freedom.
Debt Consolidation Loans vs Credit Card
Using a 0% APR credit card can often be a faster and simpler way to get out of your debt situation. For someone with a good credit rating, you could get a large amount of money for a period of up to 1 year, which is plenty of time to get your finances in order.
These sort of credit cards must have no fees on balance transfers however to make it worthwhile, so look out for the best deals on credit cards to find one that offers this.
And make sure you repay the debt before the 0% lapses, as credit cards have very poor interest rates which could leave you in a worse situation than you were originally. These are often compared with payday loans as the interest rates escalate to such proportions, so watch out.
If you're in trouble, visit Citizens Advice: https://www.citizensadvice.org.uk/debt-and-money/debt-solutions/
Debt Consolidation Loans vs Balance Transfer
For a balance transfer service, you need to calculate the fees involved with each one to see if you will end up with less repayments overall.
These are often found with 0% APR credit cards that offer no-fee balance transfers, and can help you get out of debt. However the period of 0 interest often depends on your credit score.
Debt Consolidation Loans vs Personal Loans
This comparison isn't really necessary, as a debt consolidation loan is usually already a personal loan. They both allow you to choose an interest rate that works for your situation, with various amounts of money being available for those with a good credit rating.