UK Treasury Puts Help to Buy Loan Book For Sale
The UK government has lately revealed plans to sell off the £7.4 billion loan book of the help to buy scheme, with talks underway with larger investors as the book is due to release equity in April of this year.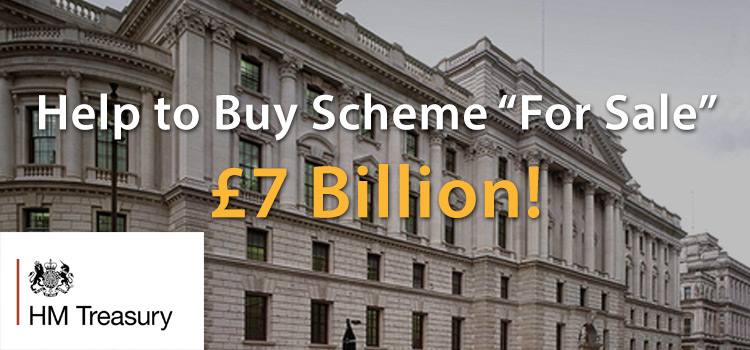 This was the government flagship equity loan scheme, and it offered a great value equity loan of up to 20% of a new build home house value, bumping it up to 40% if it was in London.
The first 5 years of the loan was free, with borrowers to begin paying back in interest rates equal to 1.75% of the home value, which increased yearly by RPI + 1% (Retail Price Index).
The UK government started to send out signals towards November, trying to gauge whether or not this would be of interest to investment groups, and apparently they have already discussed the potential sale with a large asset management company.
The Treasury has refused to comment on the issue at this time.
It is estimated that around 145,000 houses and apartments were purchased using money from this scheme (as of September 2017) which makes the estimated worth of the scheme around £7.4 billion. The entire value of the homes purchased in this scheme amounts to around £35 billion.
The early adopters of the scheme back in 2013 (around 2,000 people) will begin making repayments in April of this year, which makes the loan book quite an appealing investment, especially to those in pension funds where security is very important.
There are however concerns among some asset managers, as they are currently unaware of how the book is structured and are wary about the reliability of future returns.
The Resolution Foundation has commented that these loans are a "ticking time bomb", as a time of higher interest rates and poor income rises may lead to families being unable to make their repayments. This could also be a concern to those investing in the loan book, as they may be unable to fully assess the risk involved.
A very small rise in interest rates could lead to an annual increase of around £900 for the average family, and with a lot of these loans being taken out by struggling families, it suggests the likelihood of bad debt could be substantial.
Needless to say the Treasury failed to comment on the risk, saying that their activity was simply part of a widespread balance sheet review (announced in the November Autumn Budget).
The current government balance sheet records there are £1.7 trillion of assets, and £3.7 trillion of liabilities.