Number of mortgages fall as FCA cautions about Interest only loans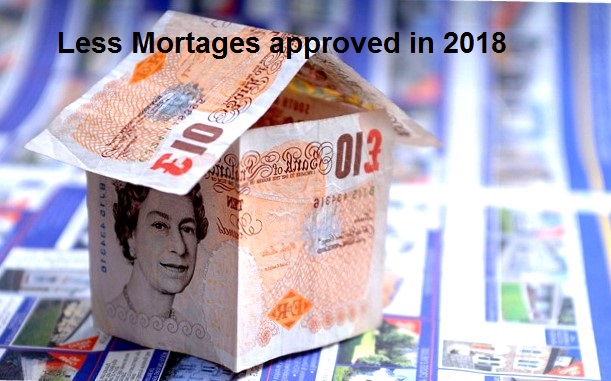 Less mortgages than last year are being approved because consumers are more and more turning to credit cards to maintain their living costs, recent data has showed.
New mortgage applications have hit a 3 year low states the Bank of England in figures it recently released. In December 2017 , only 61,000 mortgages were awarded by banks which is the lowest number since January 2015.
Unsecured credit however has risen , mainly credit cards, which has been rising by nearly 10% year on year in December when compared to just over 9% in November.
These findings come as it was reported back at the start of January that the banks were restricting unsecured lending. In the final 3 months of 2017 it was reported that an ever increasing number of credit card applications were rejected.
Mark Carney, Governor of the Bank of England gave warning in September 2017 that unsecured lending was in fact "a pocket of risk" and it could leave high street retailers very open and weak to economic problems. This news about the growth of unsecured lending will be very unwelcome news for the BOE's policymakers.
The FCA (Financial Conduct Authority) has again issued concerns that far too many borrowers have interest only mortgages, whereby if they are unable to pay the amount of capital at the end of the mortgage term, it could leave them at high risk of losing their property.
It is reported that Banks have been unsuccessful in contacting mortgage holders which has led the financial regulators to request that people who have these types of mortgages get in contact with their mortgage providers to seek an alternative solution.
In total, there are nearly 1.7 million interest only mortgages that are held in the UK currently, which accounts for nearly 1/5th of all outstanding mortgages.
Three groups of debtors are said to be nearing the point at where they have to repay the loans fully. One peak time for this is occurring now, and the next two are in 2027/8 and 2032. Most of the debtors about to reach the end of their interest only mortgages are most likely wealthy retirees, who should hopefully be at lower risk of not being able to make the final payment. But, after a full review of interest only mortgages in 2013 the FCA discovered that just under 50% of debtors would not be able to repay their loan in full. This is why the banks are encouraging these more vulnerable borrowers to contact their banks before that time comes.
The FCA spokeman Mr J Davidson stated that they were very concerned 'that a large number of interest only customers would be unable to repay the capital sum at the end of the term".
Mr Samuel Tomb's of Pantheon Macroeconomics stated in real terms the interest rate on mortgages in fact went up to 2.5% in Dec 2017 , which is the first rise since May 14 and notably the largest since January 2010. He said " for many households, servicing the debt is affordable relative to income. But , a growth in household spending has outdone incomes in recent years mainly because interest payments have been going down. This spell is going to finish soon"
Growth on an annual basis  in lending to businesses went up from 3.7% , a .2% increase from November.