Binance crypto exchange offline. Maybe hacked or hardware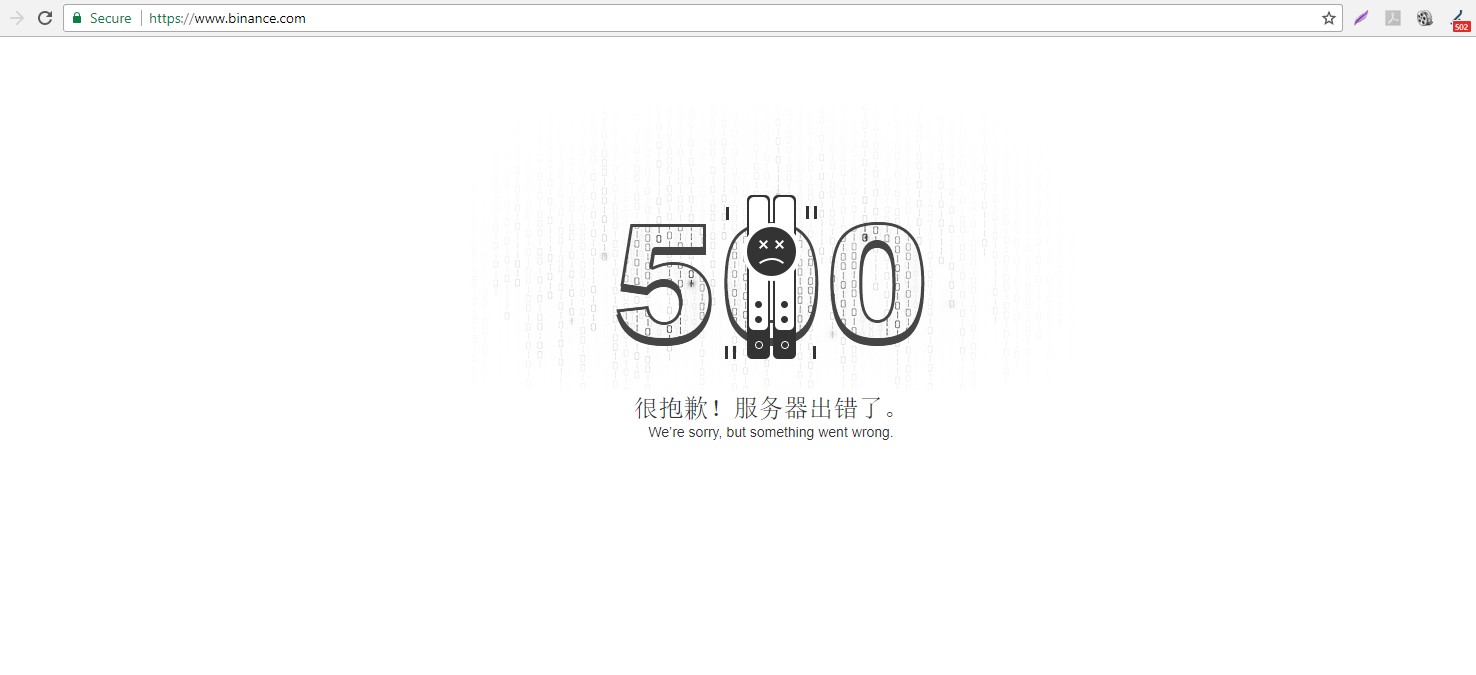 The cryto currency exchange Binance is denying that its been compromised aka hacked when a system upgrade has stopped users withdrawing money or doing any trading on Thursday.
This comes amid the recent huge crashes that cryptocurrency markets have experienced, with bitcoin down at once point to under $6000 last week, and the market cap of the crypto space being hammered down by billions of dollars every day.
Binance is a Hong Kong based exchange and at approx. 2 am GMT on Thursday announced that due to massive user numbers increases and the commensurate trading activity increase, Binance would need to extend their system upgrades for longer"
It announced that they hoped the work would be completed by 2pm GMT on Thursday,  this has not been the case so far with the site still showing a 500 error at 2pm GMT. Allegedly Binance has suffered a "server issue on their main database cluster" which has caused some data to be out of sync. This has required the exchange to "fully resync from the master copy"
Zhao Changpeng, the chief executive of Binance said on twitter that "no data is lost". However this massive outage on one of the largest exchanges in the crypto world follows hot on the heels of the Japanese exchange Coin check.com which suffered the largest crypto hacking theft to date of $500 in late January.
When asked on Twitter if Binance has also been hacked like Coincheck was, the CEO replies with an emphatic "no".
At 13:10 UK time the Binance twitter account stated "Due to an unforeseen slowdown in the speed of our data sync, we now estimate for all trading activity to resume at 2018/02/09 4AM (UTC). In the 30 minutes prior to the commencement of trading, users will be able to use utilize all other account related functions."
Many twitter users have been outraged by the failure with some saying that an unannounced upgrade of this size is unacceptable. With others replying that "technical failures can and do happen. With such a hardware and data critical application, Binance is as prone as any other company to hacking or failure even though they are the biggest and most respected of the fledgling crypto exchanges"
Out of almost nowhere over a year ago, Binance has grown very rapidly, its stable (to date), easy to use platform and the fact it has listed many post ICO currencies that no one else would list, has proven popular with investors. Other exchanges like Bittrex do not offer the same diverse range of cryptos and this has resonated with seasoned and new investors alike. Particularly as the newly launched cryptos have in some cases had 'moon' potential in terms of value growth.
Mr Zhao told Bloomberg tv earlier in January that Binance was adding "a couple of million" users ever week.  During the previous 24 hours Binance was the 2nd most active exchange in terms of value of trades, with volumes of $3,5m being traded going on coinmarketcap data feeds.
Like the old school stock markets, cryptocurrencies have been hit very hard in the past few weeks and both have been bouncing back in the last couple of days. Bitcoin is up from a recent low of $5,920 to nearly $8500, which is still a massive downturn from its $19,000 value at peak hype at the end of 2017. With that said, looking at Bitcoins past price movements in recent years, there have been many huge market corrections. Just that this time, the value lost per coin was so much higher due to the possibly overhyped late 2017 numbers it was at.