UK consumer spending down in 2018 at lowest point since 2016
The UK consumer Xmas spending amount fell by the largest amount recorded since June 2016 which has led to large share price drops and some profit warnings from a variety of high street retailers. There has been complaints of an impending price war from a leading UK funeral directors.
The well-established fashion company Bonmarche (ladies fashion) lost 25% of its value due to poor sales over the Christmas period.
Carpetright, the large carpet retailer has suffered greatly recently with almost 50% wiped off its stock market share price upon hearing the retailer say its outlets were "very quiet" and they may have no profits this year.
The chief executive of Carpetright Wilf Walsh stated "the exodus of customers could yet turn out to be a blip. " But he also said "We are being cautious and taking the worst view that it is a trend".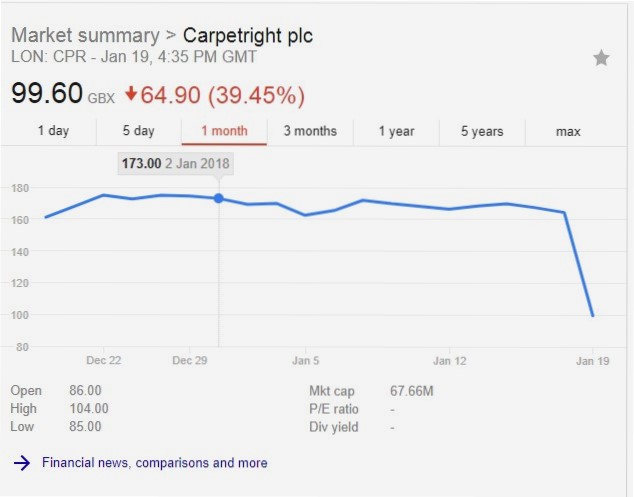 Overall, the retailer marketplace is suffering , after inflation consumers spent 1.5% less in December than the previous month according to the ONS (Office for National Statistics). This contrasts with economists who had predicted only a 0.6% decline, which was driven mainly by November 2017s Black Friday deals which were intended to bring shoppers into the stores earlier than usual for the Xmas period. This didn't work as expected however as they were not prepared for the ONS's research that had stated there was a slowing growth over the longer term appearing. As a result the sales in the last 3 months of the year were only 0.4% higher than that of the previous year, a very slow level of growth and the lowest since a sharp dip at the start of 2017.
The bad news from Carpetright where the average spend is £350-£500 forebodes a warning to other larger ticket stores and matches the negative picture from other similar stores.
These type of stores are tied to the UK housing market for obvious reasons and could potentially be seen as early indicators of an impending recession.
These companies were not alone in a dire December 2017, with the suit retailer Moss Bross also reporting a very poor Decembers trading. In addition to Moss Bros, John Lewis who actually issue weekly sales figures, reported a declining year to year revenue on it's past 3 weeks sales figures, this could be a accurate indicator of things to come in the economy over 2018.
The slowing or drop in sales has not been restricted to the retail sector, as Dignity, the UK chain of funeral directors has stated that is being enveloped in a price war with competitors and its profits would be 'substantially below the markets current expectations". They have gone so far as to offer to reduce the cost of their basic "simple funeral" package by 25% , presumably to compete in the price war they have talked about.
Lukman Otunuga ,an FXTM research analyst said an "unsavory combination" of rising inflation and tepid wage growth had "sapped" consumer spending power.
"With wage growth consistently lagging behind inflation and putting the squeeze on household incomes, concerns are likely to heighten over the sustainability of Britain's consumer-driven economic growth," he said. This underlines the other statistical trends from struggling retailers that there could be a recession looming in the coming months.