First Credit Cards
So you're applying for or thinking about getting your first credit card. But which one is the best? Is there anything you need to know beforehand?

Read on to find out more about applying for your first credit card.
Best First Time Credit Cards for Young Adults
Here are the best credit cards on the market currently for young people to get started. These cards were compared based upon the interest rates, the period of 0% interest (if any), balance transfers, and ease of application / acceptance.
How do credit cards work?
You may have already heard of debit cards, which take money directly from your account when you make a purchase. Well credit cards are very similar to these, however the money that you spend is given to you "on credit", which means the money has been lent to you, and you don't have to pay it back straight away.
This money will then appear in your credit card statement, which you will have to pay off with your actual money every month to avoid paying the interest rate on the money. The interest rate refers to how the credit cards make money, they will charge you a portion / percentage of the money you borrowed as a fee, and add it to the total money that you owe them.
If you don't pay back the money on the second month, then the first months interest + the initial balance is used to calculate the new interest charge, which obviously has increased from the first month.
This may be why you have heard of credit cards in a negative light, as they can lead to escalating debt if not managed properly.
What is the best credit card?
The best credit card is one that charges 0% interest over an infinite amount of time, however obviously the company would never make any money in that situation, so the best credit card is simply the card you can get with your credit rating that has the longest 0% interest rate and the lowest interest rate after that period.
How do you get your first credit card?
You get your first card by applying for it (and obviously being accepted!). You can apply for credit cards at your local banking, credit union, or online via another lender.
The most important thing to look at when choosing a credit card is the interest rate, the 0% apr period, and the bank transfer fees.
Money.co.uk has a fairly good comparison for first cards that you can check out here: https://www.money.co.uk/credit-cards/first-credit-cards.htm
What is a credit limit? What will mine be?
A credit limit is the maximum amount of money that you can borrow at one time. For example a card that has a credit limit of £1,000 will allow you to purchase items up to £1,000 in total value, at which point the card will no longer work, and you will have to pay off some of the balance to allow you to use it again.
Am I eligible? How do I get accepted when I apply?
Your eligibility for a credit card and your likelihood for being accepted is based upon your credit rating. This is a history of your credit transactions over your lifetime.
As it will be your first card, your credit rating will probably be very low, and so getting a good rate will be tricky. You should aim to get the best rates possible whilst still having a good chance of getting accepted.
Our guide on loans for young people has a section on credit repair that you may find useful.
How to pay off my credit card?
To pay off your credit card, it is advised to setup a direct debit from your current account (where your main income goes into) to the credit card account. This will automatically pay off the balance of the card every month, and therefore you will avoid any extra interest rates applied to the balance and it will cost you no money at all to use this free credit.
The other option to pay off your card is to check the balance on your statement every month and manually make a payment to your lender. This can often be done online or over the telephone, however you should check with your lender to see if there are any additional fees for doing so over the phone.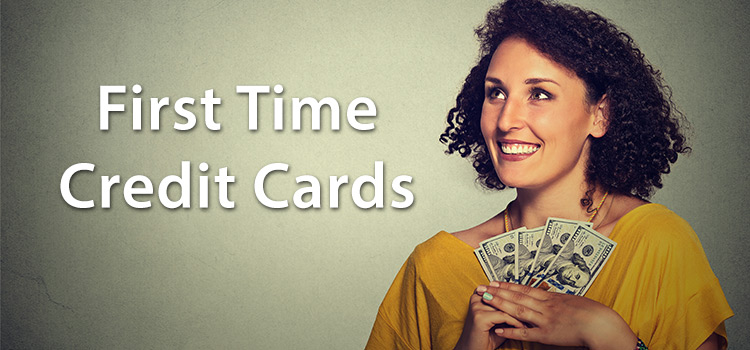 About First Time Card Providers
Here is some more information about companies who provide first time credit cards, and what to look out for when applying and during the process of owning the card.
Which lenders provide first time cards?
The popular credit card providers that allow for first time lenders to apply are:
American Express
Aqua Classic
Vanquis
Barclaycard
Lloyds Bank
British Airways
HSBC
Halifax
There are other credit card providers that accept first time applicants, however these are by far the most popular choices in the UK currently.
What types of cards are available?
You may be wondering what types of credit cards are available for young borrowers. There are various types of credit cards available, including:
0% Balance Transfer Cards – these allow you to cancel out old debts with a simple bank transfer, allowing you to move money around without fees (see interest free loans).
Low Lifetime Rates Cards – these keep you locked in at a good interest rate, for those that know they can't pay back money straight away.
Credit Building Cards – these are perfect for those wanting to gradually improve their credit score, allowing you to get a better rate in the future.
No Foreign Exchange Fee Cards – these are the perfect first card for those traveling, allowing you to spend money abroad without crazy fees.
Reward Cards – these are popular for those who make a lot of high street purchases or eat out at chain restaurants, as the rewards can often be very good.
Student Cards – these cards are ideal for students, who obviously are less likely to have a steady income coming in during their studies.
These may be more appropriate depending on your situation, and so should be part of your credit card research. You can learn more about improving your credit rating here.
If you have old credit card debt, learn how to write them off here.
Credit Card History
If you wanted to learn more about the first credit card ever, then read the info below.
When was the first credit card?
The first credit card was created by the Diners' Club in America in 1950. Slightly later on, the famous company called American Express created their card in 1958.
Which is the world's first credit card?
The first credit card use was actually privately within firms such as hotel chains, oil companies and other outlets to help them gain rewards on purchased made from that one company alone. This practice began during the 1920's.
You can see a photo of one of the first credit cards here.